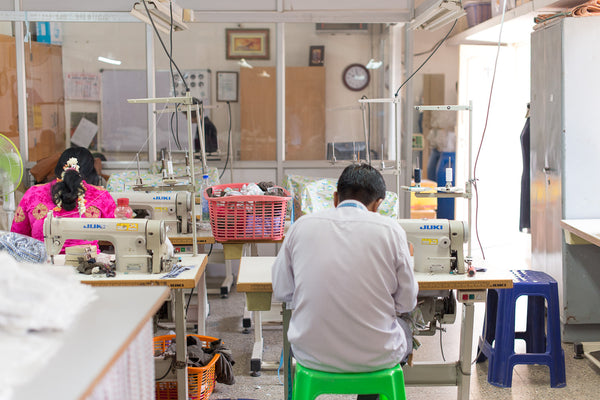 A sewing workshop with ethics and respect
At Holi and Love, we are proud and above all happy to be able to work with a sewing workshop, a pioneer in fair trade! This fashion house, called Jacobs Well, is located in the center of the megalopolis of Bangalore, a sprawling city known for its new technologies and incessant construction.
Jacobs Well is a beautiful and bright sewing studio where the teams feel good, respected and totally integrated into this sustainable economy project. The hours are lenient, the spaces studied, the breaks joyful. We feel a real team spirit and going there for meetings is a real pleasure!
History of the workshop
The story of Jacobs Well begins in Mumbai in 1994, as an NGO aimed at finding meaningful jobs for women in slums, exposed to various forms of discrimination, violence and exploitation.
After a modest start as a small sewing unit focusing on embroidery, modeling and cutting, the Jacobs Well project quickly grew, creating its own product line as well as a center training and production in Bangalore. An intensive three-year training program was implemented to improve the quality and skills of employees.
Today, the production house is based in Bangalore, South India, where Jacobs Well continues to train and employ vulnerable young people from lower socio-economic backgrounds, who often have few employment opportunities. employment or training.
Jacobs Well and its Fair Trade commitment
A pioneer in the ethical fashion movement more than 20 years ago, Jacobs Well continues to play a very active role in this direction.

With sustainable development principles at the heart of its business, the company joined the World Fair Trade Organization (WFTO) in 2009, giving them assured credibility. The basic principles are respected:
- no child labor
- salaries are respectful of the work provided
- working conditions are safe and good for all workers