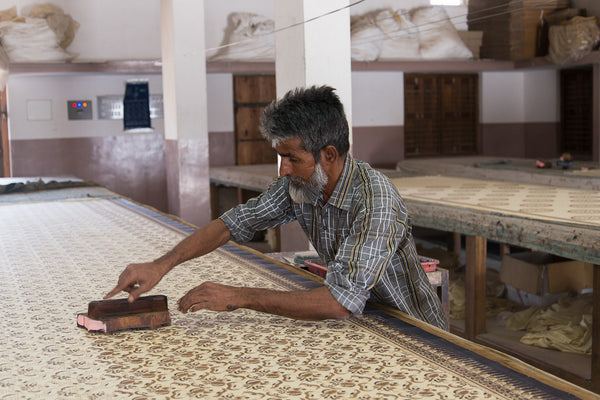 The artisans of Gujarat
While most traditional crafts are struggling to survive in today's times, there is a small village in the Kutch region of Gujarat, an area north of Mumbai, which has retained its traditional crafts. This small village, Ajrakhpur, attracts national and international buyers with its beautiful printed fabrics in natural hues, a technique called "blockprinting".
The designs are engraved in a wooden stamp which will be applied by hand to the fabric. The result is not perfect, and that is what gives this art its charm and authenticity.
The village of Ajrakhpur
Around a hundred families are involved in this long and laborious process of creating this engraving, called "Ajrakh". Most of the artisans in Ajrakhpur actually come from a different village, Dhamadka. They moved after the devastating Bhuj earthquake in 2001, when many villagers were killed or lost their workshops and homes. These artisans are led by the Sufiyan Ismail Khatri family and their art dates back over 400 years.