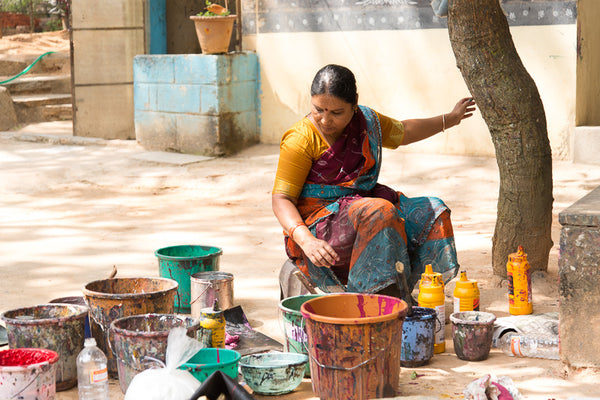 Define the future summer collection
This is the funniest part of the project: choosing the patterns, making blocks that will be used to stamp the fabrics, imagining the colors, trying a color, changing your mind, adapting the color, adding white, red... Start again. Laugh with the charming colorists from the Tharangini workshop.
We have already told you about this block print workshop (wood block printing), a technique widespread especially in Rajasthan. But here in Bangalore where we live, a family workshop which is cultivated from generation to generation, has escaped the over-construction of the city of Bangalore.
The space is an oasis of freshness, vegetation, admirable people. Here we work with respect. The colors are natural or in any case respect health. Things are done by taking the time, the time of one or more Chaï tea.. Because ideas come from drinking Chaïtea ;-)
And since this adventure deserves two heads rather than one, since it is much more fun to choose a color together and to rejoice in all this, the team has therefore grown, to the greatest joy of all ! Caro joined Julie and together they form the fine team that will orchestrate Holi and Love from the summer 2019 season. Julie lives in India and takes care of creation, production, work with artisans and transport goods; Caroline, who is returning to France this summer, will take care of distribution , public relations, and will be the point of contact for our brand for the stores and our customers in Europe.