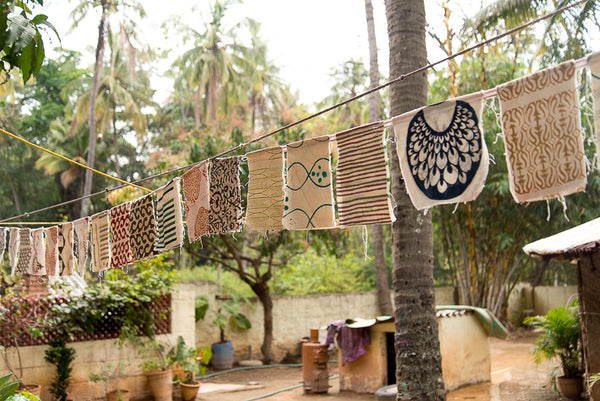 In a block printing workshop, the Tharangini studio
Tharangini is above all an oasis, a little haven of peace filled with greenery right in the center of the megacity of Bangalore.
This place invites serenity, we can feel a real authentic approach that Padmini, who took over the reins, describes with a lot of love. Padmini and her sister have always grown up around Tharangini, and thus make us aware of the process, the artisans and the work.
It's a beautiful family story, established for more than 40 years, where traditional craftsmanship takes precedence over modernity and speed. Gestures are learned and acquired from generation to generation. The practices are sustainable and fair, the colors are ecological and 100% natural.
Block printing, called block printing, is an art in itself, dating back to the 12th century in India. It all starts with a piece of wood called Bunta, the blocks are carved from dried teak by highly skilled craftsmen. They carve a design onto the wood for the woodcarver to create a stamp.
We found that some blocks still in use were over 80 to 100 years old. The block, a very beautiful object in itself, cleaned by hand after each color and soaked in oil to preserve the wood.
Tharangini boasts one of the largest collections of handblocks in India in their workshop and their library continues to grow with an eclectic mix of traditional and contemporary prints.
Tharangini's further mission is to provide vocational training to disadvantaged groups. Crafts by and for everyone!